Poulton man's 'life saved' by Luton Town fan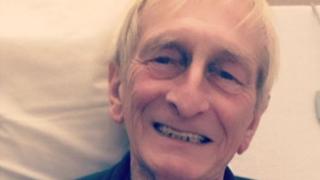 A man who collapsed at the bar of his local pub had his "life saved" by a visiting football fan.
Keith King, 73, was at the Thatched House pub in Poulton, near Blackpool in Lancashire, with Luton fans when he collapsed on Saturday.
Matthew Davies stepped in to perform CPR (cardiopulmonary resuscitation) having stopped for a pre-match pint before an away game against Blackpool.
Mr King's daughter Zena said "his quick reaction... saved Dad's life".
'Happy ending'
Mr Davies continued performing CPR until a police officer with a defibrillator arrived.
He and his friends then went to watch the match, which the Hatters won 2-0.
Pub manager Neil Smith said the fans had wanted "somewhere for a quiet drink" before the match.
Ms King said: "We'll never be able to thank Matt enough for his quick reaction in starting CPR to save Dad's life."
She said the Luton fan, the pub's assistant manager and Sgt Steve Hardman "worked as an incredible team to give Dad's story a happy ending".
"I hope people who hear about what they did are inspired to get first aid training.
"As for my dad, he's now got the excuse he's always wanted: 'It's safer to be in the pub than at home'."
Ms King said her father is now in hospital waiting to have a pacemaker fitted.