Blackpool owners' libel case against fans website dropped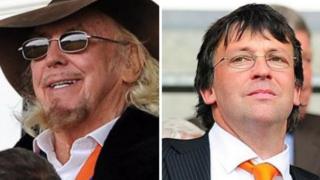 A defamation case brought by the owners of Blackpool Football Club against a fans website has been dropped, the club has confirmed.
Owen and Karl Oyston were seeking £150,000 damages from the Back Henry Street website.
The web forum said it was "delighted" the case had been struck out "in its entirety".
The Oystons brought the action over six allegedly defamatory comments made on the site in 2014.
The case was thrown out on a technicality as the Oyston family had failed to pay court fees, solicitor Robert Evans, acting for Back Henry Group, said.
Last month the Oystons decided to stop pursuing a case against fan Jeremy Smith.
Blackpool, who dropped from the Premier League to League Two in five years, has seen its supporters involved in demonstrations, match boycotts and social media campaigns over the way the Oyston family runs the club.
---
Continued protests
In November 2015, the owners won £20,000 in damages after they were defamed by a fan David Ragozzino on a website
The owners also had a number of fans apologise for comments made to them
Karl Oyston won £30,000 of libel damages in May last year
The Blackpool Supporters' Trust (BST) have adopted an "ethical boycott" of official club merchandise and attending home matches at Bloomfield Road this season.
Blackpool's president Valeri Belokon began a civil claim against Segesta Ltd, Owen Oyston's operating company, at the High Court in Manchester on Tuesday.
---