Woman, 35, dies in police custody in Blackburn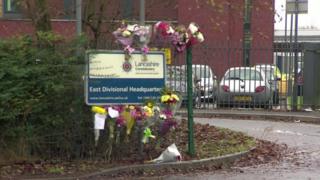 A 35-year-old woman has died in police custody in Blackburn.
The woman, named in floral tributes as Kelly, was arrested on suspicion of assault in Darwen on Saturday and taken to Greenbank police station.
After she was found "unresponsive" in her cell at about 01:30 GMT on Sunday, she was taken to hospital where she later died, Lancashire Police added.
The incident has been referred to the Independent Police Complaints Commission (IPCC) for investigation.
Flowers were left outside the police station to the woman who is yet to be formally named by police.
A note on one of the bunches read: "To my beautiful daughter Kelly.
"Love you, will always love you.
"Will miss you greatly. Mum."
An IPCC Spokesperson said it had begun an independent investigation following the death of a woman detained by Lancashire Constabulary.
Investigators have begun to gather evidence, they added.