Oskar Kennedy-Jobey death: Dad 'changed story to escape justice'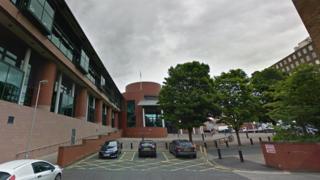 A father accused of murdering his baby son changed his story "in a final throw of the dice" to escape justice, a court heard.
Seven-month-old Oskar Kennedy-Jobey died in hospital after Kane Kennedy called paramedics to their home in Morecambe last October.
At Preston Crown Court, Mr Kennedy, 20, denies manslaughter and murder and blames Oskar's mother, Tia Jobey, 19.
She has admitted causing or allowing Oskar's death.
The court heard Mr Kennedy, of Harewood Avenue, Heysham, had initially told police, paramedics and doctors he had fallen asleep on the sofa with his son and woken to find the baby unresponsive.
But in November, he changed his story and claimed he had slept in a separate room to Oskar and Ms Jobey.
'Violent and abusive'
Peter Reid QC, prosecuting, said Mr Kennedy gave that explanation to a fellow inmate while on remand to avoid bullying and abuse from other prisoners.
The baby died of smothering and had a catalogue of non-accidental injuries when he was taken to Lancaster Royal Infirmary.
Home Office pathologist Alison Armour concluded Oskar's injuries "negated the possibility" of overlaying as a cause of death.
Mr Reid said: "There was no point sticking with his accidental overlaying defence he had decided to tell everybody. What else is there if he hopes to avoid the consequences of his unlawful actions?
"He comes up with a final throw of the dice to blame Tia Jobey - the woman he told police unequivocally had nothing to do with causing Oskar's injuries or Oskar's death."
Jurors have previously been shown messages sent between Mr Kennedy and Ms Jobey before Oskar's death in which Ms Jobey claimec the father was abusing the boy.
'Fractured upbringing'
One message claimed Mr Kennedy was "addicted to weed and violent and abusive" and Oskar was "not safe at all".
However, Mr Kennedy's lawyer Michael Hayton QC said his client had a "fractured" upbringing and had lied to keep his family unit with Ms Jobey intact.
He told the jury: "He has told lies and you may at times think he has acted strangely or oddly.
"You might find he has behaved criminally.
"But as you judge his evidence that is at the core of this case remember, as a 19-year-old as he was that morning, how he must have felt, dealing with his stiff, young baby, not knowing what to do, not knowing how to help and fearful for what might happen."
The jury is expected to retire to consider its verdict on Monday.