Chorley Hospital: Restoring 24-hour A&E 'unrealistic', says report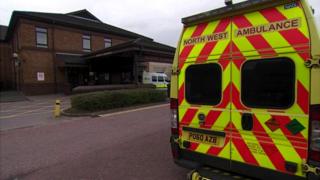 A hospital trust has ruled out reinstating a 24-hour service at an Accident and Emergency unit closed for eight months due to a staff shortage.
Chorley Hospital's A&E department was shut and downgraded to an urgent care centre in April, prompting protests.
In a report to Lancashire County Council, Lancashire Teaching Hospitals Trust has now recommended reopening it for 12 hours a day from 18 January.
But it said a 24-hour service was "not currently realistic" or feasible.
The council had earlier criticised the trust, saying the closure should have been avoided.
The town's Labour MP, Lindsay Hoyle, called for senior managers to resign.
'Safe and sustainable'
Responding to 10 recommendations made by the council's health scrutiny committee in September, the trust said it was "fully committed" to reinstating the A&E and had a "focused recruitment plan to secure additional staff".
However, it said that while it had reviewed "more than 150" CVs since April, all 12 resulting job offers had been declined.
The trust has already removed a cap on agency pay for doctors.
But even this move "did not yield any further CVs", the report said.
The reopening of the emergency department has been timed to coincide with the launch of a 24-hour urgent care centre run by a new service provider.
This will enable workers who are currently running urgent care to move back to the A&E department and plug staff shortages, the trust said.
Integrating A&E and urgent care on the same site would "provide additional resilience" and a "safe and sustainable service", the report said.
The decision to limit opening to 12 hours builds on recommendations from an independent review in October.
In the report, the trust also recognised its inability to meet the four-hour target for A&E attendance at Royal Preston Hospital but said the problem was "national" with only "four of the 138 large A&E departments" achieving it.
It also admitted to failures in communicating with the public about the unit's closure and "recognised that there was very little notice given" but said plans were in place to improve this.