Run-down Burnley Empire Theatre 'can be saved'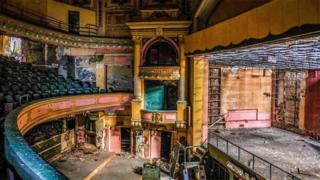 A dilapidated Grade-II listed theatre that has stood empty for more than 20 years has the "potential to be saved", a viability study has found.
Last used as a bingo hall in 1995, Burnley Empire Theatre was named the fifth most at risk theatre in the UK.
The Burnley Empire Theatre Trust commissioned a study to find out whether it was worth trying to restore the building.
It revealed the Cow Lane venue has the potential to be repaired.
Sean McCree from the Burnley Empire Theatre Trust said campaigners would now commission a further study to produce a financial model needed to produce plans to restore the site.
The four-storey building, designed by G. B. Rawcliffe, opened in 1894 as a music hall before being converted to a cinema in 1938.
It was due to be sold at auction in Manchester on 16 October, but was withdrawn to allow the viability study.