Army charity conman Marvin Trussell jailed for £50k scam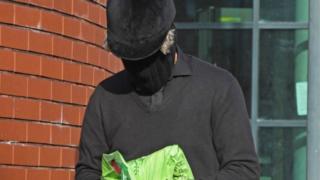 A conman who pocketed £50,000 collected for a bogus charity set up to help injured soldiers has been jailed.
Marvin Trussell, 42, of St Annes, Lancashire, launched Army of Heroes claiming it also supported soldiers with post traumatic stress disorder.
Trussell "took advantage of people" when wristbands were sold between £2 to £3 in Blackpool, Preston and Liverpool.
He was jailed for three years after being found guilty of fraud between 2014 and 2015 at Preston Crown Court.
Judge James Adkin described the scam as an "exploitative offence" and "entirely dishonest".
"You took advantage of the good nature of people who wanted to help servicemen," he said.
'Rattling collection tin'
The bogus charity's website stated: "Army of Heroes was created to help injured servicemen and women and their families by providing support to those with life changing injuries and illnesses and also to provide psychological aftercare."
Charity collectors working for Trussell wore fleeces and carried collection tins bearing the Army of Heroes logo - a union jack with a soldier silhouetted against it.
The court heard one man was collecting around £500 a week.
Judge Adkin said: "You never had any intention that the money would go to those with life changing injuries as a result of serving in the armed forces."
On the first day of his trial Trussell, of Glen Eldon Road, was spotted rattling a collection tin outside the Sea Life Centre in Blackpool, breaking his bail conditions, and was remanded in custody.
Russell Davis, defending, said Trussell had previously been commended by Merseyside Police for the dignity he and his family had shown during the investigation into the murder of his sister Maxine Showers in Liverpool last year.
The judge accepted the mitigation but said the scam was "deliberate and mean", and banned Trussell from being a company director for seven years.