Family not told of Southport NHS probe into fatal leg op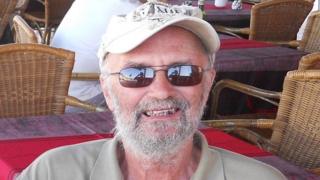 The family of a man who died following a botched operation on a broken leg was not told about an investigation into his death until 10 months afterwards.
Stuart Brunst, 67, died following complications three weeks after the routine procedure at Southport District General Hospital in Merseyside.
A coroner concluded "neglect" contributed to Mr Brunst's death, in October 2015.
Southport and Ormskirk Hospital NHS Trust has apologised to the family.
Solicitors said the trust had failed in its "duty of candour", by not informing the family of their internal investigation within reasonable time.
'Failure of communication'
Mr Brunst was admitted to the hospital following a fall at his home in Aughton, Lancashire, an inquest at Southport Town Hall on 24 October heard.
During the operation, screws were incorrectly inserted into the bone and became dislodged, leading to a fatal fat embolism developing.
Mr Brunst's condition deteriorated and he died on 2 October, and an investigation was launched by the NHS trust.
Recording a narrative verdict the coroner, Christopher Sumner, said there had been a "total failure of communication and dialogue" between the hospital's radiology and orthopaedic departments, leading to a delay in identifying the complications.
There were then further delays in planning an emergency operation for Mr Brunst.
Mr Sumner concluded: "[The] actions, and, at times, inactivity, of the Southport District General Hospital did amount to neglect, and contributed to the death of Mr Brunst."
The family were eventually informed of the hospital's investigation after their solicitors became involved.
After the hearing, Mr Brunst's daughter Anita, said: "My dad's death, and what happened afterwards, has left us with a lot of unanswered questions.
"For him to go into hospital with just a simple broken leg and to die like this, is extremely hard to deal with.
"We were utterly shocked and disappointed that we weren't informed of the investigation."
Investigation 'complicated'
Sarah Sharples, from the family's solicitors, Irwin Mitchell, said the trust's failure to be "open and honest" had deprived the family of being "part of the investigation".
"They carried out an investigation without the family's knowledge, even when that investigation went on to find failings with the care provided," she added.
Ian McInnes, interim chief executive at Southport and Ormskirk Hospital NHS Trust, said: "The trust accepts there were failures in the care provided to Mr Brunst and that with appropriate care it is likely his death might have been avoided. We apologise unreservedly to Mr Brunst's family for this."
He said the investigation had been "complicated" and the trust apologised for "the time it took for the relevant facts to be established and for contact to be made with the family, together with the associated distress this may have caused".
He added: "We identified lessons to be learnt in light of Mr Brunst's very sad death and we have made a number of changes to significantly strengthen and improve our procedures."