Heysham to M6 link road first proposed in 1948 opens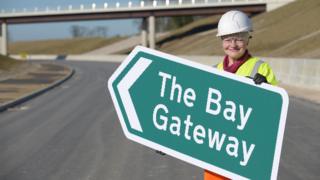 A £140m road linking Heysham to the M6 has been opened nearly 70 years after it was first suggested.
The three-mile (4.8km) Bay Gateway connects the village's port and power stations to the motorway at Junction 34.
Alongside the remodelled junction, a park-and-ride site for 650 cars and a bridge at Lune West have been built.
The dual carriageway was originally proposed in Road Plan for Lancashire, a 1948 planning document.
Officials hope it will see the port at Heysham, which is a supply base for major offshore gas fields and wind farms, expand its services to Ireland.
Lancashire County Council leader Jennifer Mein said the opening was "an enormous milestone for Lancashire".
"As well as immediately improving to travel in the north of the county, this road will bring major benefits to our economy over the coming decades."
The council paid £29m towards the cost of the project, with the Department for Transport supplying the remainder.