Paraglider killed in camping trip crash near Pilling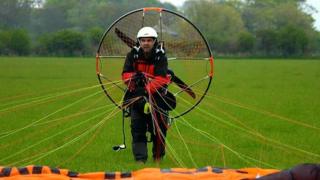 A paraglider has died after crashing in a field during a camping get-together with fellow flyers.
Ben Jones, 37, had been flying with friends in the village of Pilling, Lancashire, when the crash happened on Sunday morning.
Paramedics and an air ambulance were called but Mr Jones, of Preston, could not be saved, Lancashire Police said.
The force said inquiries were continuing but the crash was not thought to be suspicious.
Fellow paraglider John White paid tribute to his "intelligent, happy, outgoing" friend, who enjoyed a version of the sport known properly as paramotoring.
"He was a real Mr Gadget. He was always tinkering with something," the 45-year-old said.
"Because it's a very small community we all know each other. In this sport, you've got to have an unusual character. But unusual in a good way."
Mr White, of Blackburn, had been camping with Mr Jones and a group of other friends at the weekend.
He told how the group went to search for Mr Jones after realising he had not come in to land as expected during a flight early on Sunday.
"He was out of sight and we went to the edge of the field and still couldn't see him," he said.
"We got on mountain bikes and had a ride around, not thinking anything had happened. We were expecting him to just come walking over."
He said the group then discovered Mr Jones unconscious, and one of the group attempted CPR.
"He had no pulse and wasn't breathing," Mr White continued.
"The one thing we can be really grateful for is we found him really quickly, even though the outcome wouldn't have been any different. It would've been a horrible thought to think we could've done more."
The British Hang Gliding and Paragliding Association has launched an investigation.