'One punch' victim photo released after Darwen club attack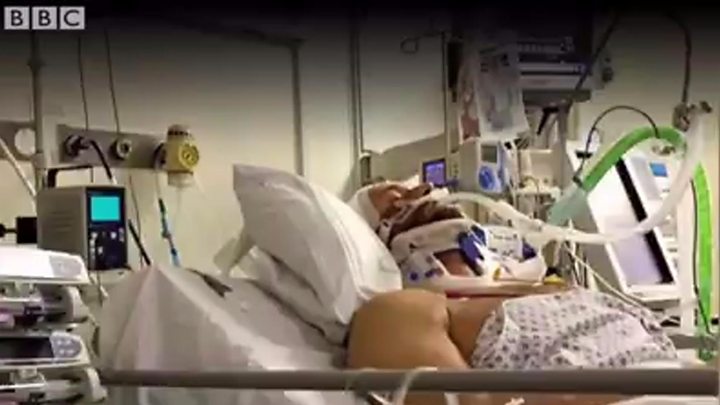 The father of a man left critically injured by a single punch in a Lancashire nightclub has released a photograph of his son in hospital.
Ben Pennington, 29, of Preston was hit in One Level in Market Street, Darwen in the early hours of Saturday.
His father Mark said his son fractured his skull on the bar and is now in a coma on a life-support machine.
He said he hoped the image would encourage clubbers who witnessed the incident to come forward.
'Stupid, pointless attack'
Mark Pennington said his family were "devastated" by the assault but, after a lot of soul-searching, he felt releasing the pictures was "the right thing to do."
"He looks a mess and I would just appeal to anyone who has seen it to come forward with what information they can."
Ben Pennington was on a night out with his best friend when he was injured.
His father said: "There doesn't seem to be any rhyme or reason for why it happened. It seems like a stupid pointless attack."
"He is still in a coma and they are slowly trying to pull him out of it. We are just taking every day at a time... and hoping for some improvement."
Det Insp Zoe Russo said Mr Pennington "sustained a significant head injury" and appealed to clubbers who witnessed the incident to contact Lancashire Police.
A 27-year-old man from Darwen arrested on suspicion of assault has been bailed until 15 November.