Chorley Hospital A&E 'should reopen part-time', says review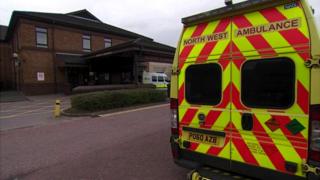 An emergency department in Lancashire which closed due to staff shortages should reopen in January, an independent review has said.
Chorley Hospital's A&E unit was downgraded to an urgent care centre in April.
An independent review commissioned by NHS England said it could reopen "on part-time basis".
Lancashire Teaching Hospitals Trust said a 24-hour urgent care centre would free up staff to work in a 12-hour A&E.
See more on this and other stories from across Lancashire
The independent review commissioned by NHS England said that, with current staffing, it was not feasible to run the A&E department round-the-clock.
But it said the trust would be able to operate an emergency unit from 08:00 to 20:00 from mid-January.
A not-for-profit GP-led health care group is expected to take over the running of the urgent care centre to release experienced emergency staff to work in the part-time A&E.
The trust has said current staff will work extra hours and new doctors, consultants and nurses will be appointed.
Chief Executive Karen Partington, claimed the takeover of the urgent care unit by a new provider means staff will be "redeployed and work in a different way" to allow for the emergency department to be reinstated.
And she defended the "difficult decision" to close the department in April, claiming "it was the best possible option to provide safe care in the circumstances".
'Milestone'
The closure of the A&E prompted protests and led to calls for a review from local CCGs, Lancashire Teaching Hospitals Trust and local MP Lindsay Hoyle.
It was expected to reopen in August but there were "no guarantees" due to staffing.
In August the trust decided the unit would remain closed until April 2017 as staff levels were too low to be "safe and sustainable".
Executive Managing Director for NHS Improvement in the North, Lyn Simpson, and NHS England Regional Director for the North, Richard Barker, said the report should be seen as a "milestone".
"It is important that we take the opportunity to move forward... in such a way that the trust can continue delivering the care that its population deserves," they said in a statement.
Mr Hoyle, Labour MP for Chorley, said the closure was brought about by "poor recruitment" and has resulted in an "immense burden" being placed on other local hospitals.
"Since April, I've been calling for this and I hope that we see action very soon."