Loose skin operation refused for man who lost 22 stone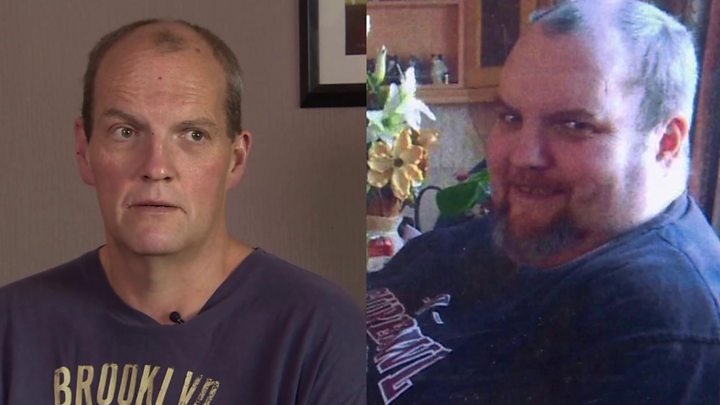 A man who lost 22 stone (140kg) said it is impossible to meet the NHS criteria to have three stone (20kg) of excess skin removed.
Jeff Huggins said he was told he does not meet the body mass index (BMI) yardstick for surgery.
The 45-year-old from Morecambe said the weight of his spare skin means he cannot meet the BMI test.
NHS Lancashire North Clinical Commissioning Group (LNCCG) said it could not comment on individual cases.
Mr Huggins lost 22 of his 40 stone (254kg) in the space of 18 months through a change of diet and regular swimming.
But it left him with multiple folds of skin under his arms, on his back and around his midriff which are prone to infection and make it difficult to sleep, he said.
A letter from the LNCCG said it will only pay for an operation for Mr Huggins if he keeps a low BMI, suffers severe "functional disability" or suffers regular infections which fail to respond to treatment.
Mr Huggins said: "Because of my loose skin I do not meet the BMI criteria."
He added that if the skin was removed he would be within the BMI range.
"BMI is not a good measure - if you judge by BMI the England rugby team are obese," he said.
A spokesman for the LNCCG said: "The decision for treatment is made by a panel of clinicians and health care professionals after careful consideration of all the relevant facts."