Chorley Hospital A&E closure should have been avoided, report finds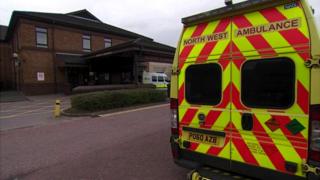 The closure of an A&E department amid "unacceptable" safety risks should have been avoided, according to a report.
Chorley Hospital's unit was shut and downgraded to an urgent care centre in April, with the closure later extended to 2017 due to further staffing issues.
Hundreds protested against the closure and the town's Labour MP Lindsay Hoyle called for senior managers to resign.
Lancashire County Council's report criticised the handling of the matter by the trust running the hospital.
The council's health scrutiny committee concluded "complex" reasons had led to a "major problem" in Lancashire's emergency care, but some of the blame must lie with Lancashire Teaching Hospitals NHS Trust, which "failed to act soon enough" to avert the staffing crisis.
The report said the trust was not "a simple victim of circumstances" and could "have acted to prevent the situation at Chorley becoming unsafe".
"Simply put, it has been clear for some time there has been a growing problem in emergency care.
"The trust could and should have seen that coming, and should have taken action to ensure that the problem did not become a crisis."
'Unacceptable risk'
The report made several recommendations including creating a plan "that identifies the lessons learnt from this situation".
In August, Lancashire Teaching Hospitals Trust called for an independent review of its decision not to reopen the department.
Chief executive Karen Partington said she welcomed the council's report and was "committed to making any improvements necessary".
"We agree that we could have informed the committee about the challenges we were facing before we did, and will ensure we provide more timely updates about this and other issues going forwards," she said.
A spokeswoman for the trust said it was "important to point out that even if we handled the situation differently, it is likely that the decision to temporarily close the emergency department would have remained the same".
She said it would have been "an unacceptable risk to patient safety to run an emergency department without the sufficient number of doctors needed".
"This decision had to be made very quickly as we found ourselves having to deal with an immediate staffing situation," she added.