£2m chemotherapy unit to open at Chorley and South Ribble Hospital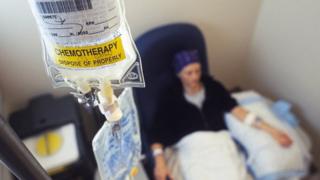 A £2m chemotherapy unit is to open at Chorley and South Ribble District Hospital.
Patients in Lancashire and South Cumbria will be treated there as well as at Royal Preston Hospital's cancer centre.
Lancashire Teaching Hospitals NHS Foundation Trust said investing in an additional unit meant it could treat more patients and reduce waiting times.
The unit is expected to treat its first patients by the end of the year.
'Vital development'
The chemotherapy unit in Chorley will be a day facility run by nurses delivering treatment to cancer patients without the need to stay in hospital overnight, the trust said.
Consultant Clinical Oncologist Martin Hogg said: "More patients than ever before are living with and surviving cancer, which is fantastic. However it does mean that the number of people needing chemotherapy treatment is increasing.
"This expansion of our chemotherapy service is a vital development and will mean we can continue to provide excellent care with compassion for cancer patients... we have a vision to extend the use of our Chorley Chemotherapy Unit in the next 12 months to provide more services, for our patients in their own locality."
The project has been partly funded by the Rosemere Cancer Foundation which has donated £50,000 to buy chemotherapy chairs and to help decorate the unit.
Meanwhile, Chorley's A&E department is expected to remain closed until April 2017 over "unacceptable" safety risks due to staffing levels.
The hospital's A&E was downgraded to an urgent care centre in April prompting hundreds of people to protest.