North West MEP Sajjad Karim Twitter threat case dropped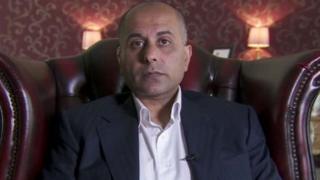 A man accused of sending threats over Twitter to North West MEP Sajjad Karim will not face charges.
A 55-year-old man, from Harrogate, was arrested on suspicion of sending alleged direct threats to Mr Karim on Twitter in June.
The Crown Prosecution Service (CPS) announced the decision was due to a lack of evidence.
The Blackburn-born Conservative MEP, 46, has requested a review. The CPS said a review would be carried out.
Tweets were sent during the run-up to the European Referendum and shortly before the death of MP Jo Cox.
Mr Karim had campaigned for the UK to remain in the European Union ahead of the June 23 referendum.
A CPS spokesperson said no further action would be taken against the accused due to "lack of evidence strong enough to secure a conviction".