World Gravy Wrestling Championship held in Lancashire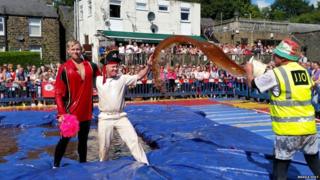 Wrestlers in fancy dress have grappled for a world title in 1,000 litres of gravy.
Sixteen men and eight women competed in the World Gravy Wrestling Championships at the Rose 'N' Bowl pub in Stacksteads, Lancashire.
Hundreds of people turned out to watch wrestlers from all over the country take part in the tenth event, held in aid of East Lancashire Hospice.
Organiser Andy Holt said it was "harder than it looks".
Mr Holt, who is the gravy monitor, has wrestled in the event eight times and said it was "very slippy out there".
He added: "It really does take it out of you, even if it is just two minutes."
The wrestling ring is a 14ft (4.3m) by 13ft (4m) pool which is padded to reduce the risk of injury.
Mr Holt, who makes the gravy at his black pudding factory, said he has had to change the recipe because the original attracted swarms of wasps to contestants.
World Gravy Wrestling Championship rules
Bouts are two minutes
Three judges award points on entertainment value, not just the wrestling
Losers get gravy bombed in the "laughing stocks"
Mr Holt said the best wrestler does not always win. He added: "The points system is more about entertainment."
Gandalf the Gravy (Joel Hicks), from Leicester, was defending the men's title, while Nicole Taylor-Lyons, 21, was aiming to recapture the women's event.
Mr Holt said: "It is crazy, but it is all about having fun and it is for a great cause."