Carpool karaoke star Ted, 80, raises £100k with son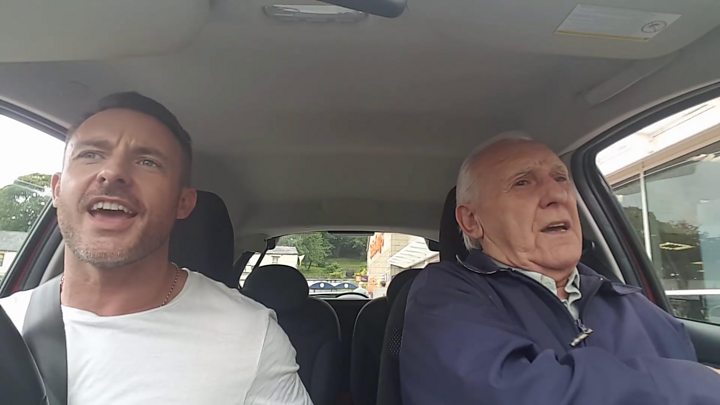 An Alzheimer's sufferer who became an internet hit singing carpool karaoke with his son has raised more than £100,000 in under three weeks.
Former Butlin's Redcoat Ted McDermott, 80 - also known as The Songaminute Man - was diagnosed with dementia in 2013 after years singing in pubs and clubs.
His videos, filmed by his son as they drove around Blackburn, have been watched by thousands on YouTube.
The pair are raising money for the Alzheimer's Society.
Mr McDermott's son, Simon McDermott, 40, said they had amassed £70,000 in the last week alone, thanks to an online fundraising page.
"It's just gone absolutely massive. It's gone international," he said.
"The States picked up on it and that was when it went even more crazy. We've had quite a few enquiries from the American media."
Mr McDermott said he began filming his father's singing for his own "posterity" but quickly realised its potential after sharing a video with friends on Facebook.
He said he decided he wanted to help the Alzheimer's Society after finding the charity's helpline supportive.
"It was a really tough time," he said. "I didn't know what was going on really, but the helpline was very, very good. I wanted to put something back."
The Carpool Karaoke craze originated with James Corden's Late Late Show in the United States, which features stars such as Adele and Michelle Obama singing along with Corden in a car.