Chorley A&E closure: Lancashire Teaching Hospitals Trust requests review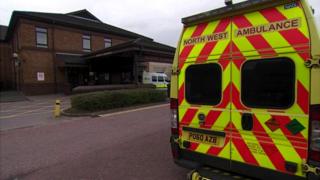 A hospital trust has called for an independent review of its decision not to reopen an emergency department.
Chorley Hospital's emergency unit was shut and downgraded to an urgent care centre in April.
It was due to reopen, but after staff levels were found to be too low to be "safe and sustainable", it was decided it will remain closed until April 2017.
Lancashire Teaching Hospitals Trust said a review would find if that was the "safest option".
See more on this and other stories from across Lancashire
The closure of the A&E unit in April prompted hundreds of people to protest and the town's MP Linsay Hoyle called for the trust's management to resign on Wednesday.
However, doctors at Chorley Hospital have supported the decision to keep the department downgraded for a further nine months in an open letter.
Dr Michael Stewart, a consultant in emergency medication, said: "If my daughter was to get meningitis tonight, I think the system we have in place is the best option for her to be kept safe.
"I wouldn't have contributed to the decision otherwise."
The trust's chief executive Karen Partington said: "I have formally requested that NHS Improvement commissions an independent review of the risk assessment that resulted in the agreement that maintaining the current urgent care arrangements is the safest viable option for patients at this time.
"This review will provide additional assurance to all stakeholders, and most importantly to our patients, that all potential options for maintaining safe care have been carefully considered, and that everything possible is being done to reinstate the emergency department."