Chorley Hospital A&E to remain closed 'until April 2017'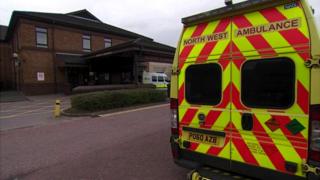 A hospital A&E department closed temporarily over "unacceptable" safety risks is to remain closed until at least next year.
Chorley Hospital in Lancashire was downgraded to an urgent care centre in April but was due to reopen this month.
However, Lancashire Teaching Hospitals NHS Trust said staffing levels were still too low to operate a "safe and sustainable" A&E unit.
The closure in April prompted hundreds of people to protest.
The latest decision was taken by the central Lancashire Systems Resilience Group (SRG), a board of representatives which includes members of the trust, Lancashire County Council and other NHS trusts.
It means the unit will remain closed until at least April 2017, when the situation will be reviewed.
'Continued patience'
Jan Ledward, chairman of the SRG, said despite "extensive and continuous efforts" to recruit more staff, there were currently only two permanent middle-grade doctors, when seven are needed.
Campaigners fear the unit "could be closed permanently", but the SRG said it was not currently being considered.
Ms Ledward said: "Members of the SRG understand the impact of this situation and the uncertainties it brings for staff and local communities, and thank them all for their continued understanding and patience.
"The efforts and commitment of all staff in maintaining a safe and effective service for patients under difficult circumstances is also recognised.
"If any permanent change to services were to be considered, this would only be carried out subject to a full public consultation."