Sadie Hartley death: Murder accused 'ill in bed' on night of killing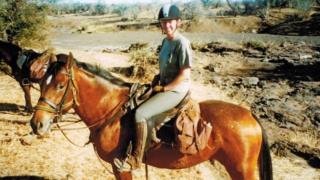 A woman accused of murdering her love rival told police she was ill in bed on the night of the killing.
Sadie Hartley, 60, was stunned with a cattle prod and stabbed at her home in Helmshore, Lancashire, on 14 January.
The court heard Sarah Williams, 35, was sent home from her job at the Chill Factore in Manchester that afternoon.
Ms Williams, who denies murder, told Preston Crown Court she slept until 21:00 GMT. The Crown says she brutally murdered Ms Hartley just after 20:00.
Ms Williams, said to have been obsessed with Ms Hartley's partner, Ian Johnston, 57, was arrested in the early hours of 17 January.
When told by detectives she had been arrested on suspicion of murder, she replied: "I would say that is a sentence I would never have expected anybody to say to me."
Asked if she was responsible for the death of Ms Hartley, she said: "No, definitely not. Definitely not."
The customer sales adviser told the jury after she had been sent home from work, she rang her 75-year-old lover, David Hardwick, and they arranged to meet at her home in Blacon, Chester.
He made her cups of tea and walked her dog before he left her in bed.
She told the court she fell asleep before waking up briefly at 21:00 and then again when Mr Hardwick visited "as usual" at 05:00 the next day before she went to work.
The prosecution described the account of her whereabouts on the night of the killing as false.
Ex-fireman Mr Johnston was said to have jilted Ms Williams in 2014 after she became possessive and difficult, the court has heard.
Ms Williams and riding instructor Katrina Walsh, 56, of Hare Lane, Chester, both deny murder.
Walsh is said to have played a key role in helping her friend to "eliminate" her love rival.
The trial continues.