Plans for £9m revamp of Clitheroe Market unveiled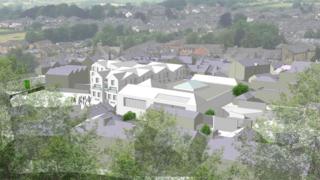 A £9m revamp of Clitheroe's outdoor market has been criticised by some traders who say it will destroy the town's traditional character.
The proposed plans, which include building a 60-bed hotel and moving the market indoors, go on public display in the town's council chambers later.
Ribble Valley Borough Council said it will give the area a new lease of life and attract new retailers.
But one trader said it would "lose the whole heart and soul of the market".
Tom Grewsker added: "I don't like it at all, it seems like they are pushing us into a corner right out of the way," he added.
Trader Eileen Ansar said an indoor market hall is not right for the town.
She said: "On the plans the market hall is completely enclosed at the back which is not a traditional market.
"All of a sudden we are going to lose everything, our heritage. I think it's disgraceful."
The plans feature a hotel, retail and leisure units, 56-space car park and revamped market with a hall, 34 cabins and 19 stalls.
If the proposals are approved, construction on the 1.4 acre site will start in spring and is expected to be completed in three years.