Ian Dollery murder: 'Son of Satan' killer Robert Kay jailed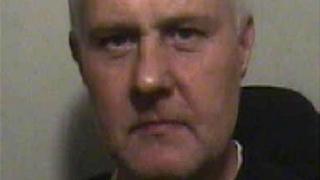 A man who claimed he was "the son of Satan" as he killed a businessman in front of his family has been jailed.
Robert Kay, 48, knifed Ian Dollery, 51, at least 30 times in an unprovoked "savage and brutal" attack at his home in St Annes, Lancashire, in June 2015.
Mr Dollery's wife, Andrea, and daughter, Grace, managed to fight off Kay but Mr Dollery later died.
Kay, who has schizophrenia, was found guilty of murder by a jury at Preston Crown Court and jailed for life.
The court heard how Mr Dollery, an aeronautical engineer, had been in his garage on the day of the stabbing.
Chronic drug abuser Kay - who was ordered to serve a minimum term of 23 years - had been drinking and injecting amphetamines at a nearby bedsit.
Armed with a large kitchen knife, Kay went out into the street and upon seeing the garage door open, attacked Mr Dollery, who he did not know.
During the trial friends described Kay as having a split personality, and said they knew him as Robert when he was behaving normally, and Rob when he was psychotic.
He had earlier been asked to leave a friend's house after he began ranting about being the son of Satan and claiming he could communicate with the devil through a TV set, the jury was told.
But Kay moved on to another house, where friends said they feared for their lives as he picked up a knife and claimed to have a list of jobs to carry out for Satan - minutes before he killed Mr Dollery .
After the stabbing Kay, of North Promenade, St Annes, fled but was later arrested after threatening a woman.
He accepted he had killed Mr Dollery, but claimed his responsibility was diminished due to schizophrenia, which was formally diagnosed following his arrest.
Sentencing Kay, the Honorary Recorder of Preston, Judge Mark Brown, described the attack as "savage and brutal" on a "wholly innocent man".
'Completely motiveless'
"Although you have a long standing mental illness you have failed to co-operate with the mental health services over the years and have continued to take drugs despite knowing they are bad for you," he told the defendant.
Kay's defence lawyer, Andrew Webster QC, said: "It was in reality every citizen's worst nightmare, to brush up against someone in a state like this - completely motiveless and completely unpredictable.
"The reality is that he was in far from a normal state of mind."
During the trial, Mr Dollery's family described the impact the killing had had on them.
Mrs Dollery, 51, described her husband as a "kind, intelligent, patient person with a wicked sense of humour."
"I miss his humour and his zest for life. I miss having someone to do something with. I miss having someone to do nothing with. I miss him," she said.