Sadie Hartley murder trial: DNA 'found at accused's home'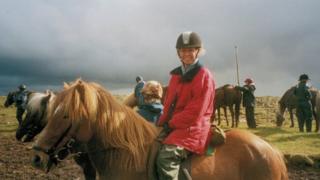 The DNA of a woman who was found dead at her home was discovered at the house of a woman accused of killing her, a trial has heard.
Sadie Hartley, 60, was stunned with a cattle prod and stabbed at her property in Rossendale, Lancashire in January.
Katrina Walsh, 56, and Sarah Williams, 35, both from Chester, deny murdering the mother-of-two.
Her DNA was found in Ms Williams' house and car, Preston Crown Court heard.
'Preposterous invention'
Swabs taken from Ms Williams' bath revealed Ms Hartley's DNA, while her blood was found on the lens of a pair of glasses discovered in Ms Williams' car, jurors were told.
John McDermott QC, prosecuting, said Ms Walsh had admitted to police that she disposed of the alleged murder weapon and a number of items of clothing on behalf of Ms Williams.
The horse riding instructor admitted hiding a stun gun and knife at work at Collinge Farm, Chester, along with the diary she kept detailing the murder plot, the jury heard.
She told police she was "petrified" of Ms Williams.
She said she initially thought the pair were simply "playing a game" and she was a fan of the Channel 4 television programme Hunted, and thought the two women were "acting out" their own version of that.
Mr McDermott said the explanation was a "preposterous invention".
The prosecution claims Ms Williams killed the businesswoman to try to win back her former boyfriend, Ms Hartley's partner, Ian Johnston, 57.
Mr McDermott told the trial about a letter sent by Ms Williams to Ms Hartley in September 2014, telling her she was having an affair with Mr Johnston.
The letter said he had been cheating on her for over a year, he said.
The prosecution claimed that after the letter failed to break up the couple, "obsessed" Ms Williams attacked Ms Hartley at her home.
The trial continues.