Accrington and Claughton brickworks face second mothballing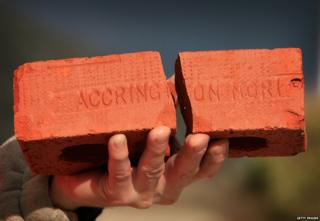 A famous Lancashire brickworks company is planning to mothball two of its factories for a second time - putting more than 60 jobs at risk.
Forterra, formerly known as Hanson, closed sites in Huncoat near Accrington and Claughton near Lancaster from 2010 to 2014 before reopening them.
It said "current economic uncertainty" meant it would be "prudent" to again shut the sites on a temporary basis.
Forterra said it was consulting staff and trades unions about its proposals.
Hyndburn Council Leader Miles Parkinson, as well as the GMB and Unite unions, have called on the government to support the local brick industry.
Steve Kemp of GMB said there needs to be a "complete sea change" in government policy in order to support the building of more "desperately needed" homes in the UK.
He also called for a "major push" on social housing and to address the "alarming rate of brick imports".
---
Huncoat's famous bricks
Bricks have been manufactured at the Huncoat site since 1887
Made from fire clay, they are extremely hard
They became known as Nori bricks when the word iron, denoting their strength, was painted upside down on the works chimney
Nori bricks were used in the foundations of Blackpool Tower and New York's Empire State Building
---
Mr Parkinson said Forterra and the government need to "come together" to "make sure we have long-term brick manufacturing in Accrington".
"We have the shale, we have the factory," he said. "People in the [UK] need houses to be built and there is a shortage... so this needs to be overcome by government intervention."
Prime Minister David Cameron and Chancellor George Osborne went to the Huncoat factory during last year's general election campaign.
They said the company's progress represented a "sign of growth in the economy".
Mr Oscorne said it was "the strongest evidence possible that Britain and the North West are coming back, and are once again on course to prosperity".