Sadie Hartley murder trial: Murder accused called herself 'psycho'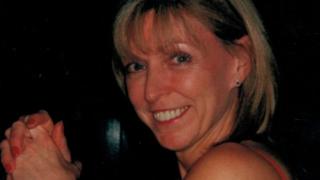 A woman accused of murdering her love rival called herself a "little psycho" in text messages, a court has heard.
Sadie Hartley, 60, was stunned with a cattle prod and stabbed at her house on Sunny Bank Road in Helmshore, Rossendale, on 14 January.
Sarah Williams, 35, and Katrina Walsh, 56, both from Chester, deny murdering the mother-of-two.
A series of text messages were found on Ms Williams' phone after she was arrested.
They showed secret exchanges with Ms Hartley's long-term partner, ex-fireman Ian Johnston, 57, with whom she was having an affair, Preston Crown Court heard.
In one, she wrote: "I went to bed thinking about you." In another to a friend, she said: "Fireman is just totally awesome...I'm hook line and sinker."
She added: "It's too early to have this conversation, being the little psycho that I am I want to push it along very quickly."
Later texts showed Mr Johnston agonising over the affair. He wrote: "I was not looking for or expecting you to appear."
In another, he said: "Sarah, please get that I can't have you here at this time. This is too difficult. Sorry."
Mr Johnston told Ms Williams how Sadie has been "kind and caring" and he would not just "blow her out", before adding: "I do like you but this is way too heavy."
Later Williams sent a "spiteful" letter to Ms Hartley revealing the affair but it failed to break up the couple, the court heard.
It is alleged the defendants then went on to execute their plan. Jurors were told Walsh used Tarot Cards with Williams during the time they planned the "perfect murder".
In voluminous diaries penned by Walsh she wrote of her co-accused: "She's got to learn that some men say they will leave their comfortable other half even when they never intend to do no such thing."
The trial continues.