Farington Lodges lake closed after thousands of fish found dead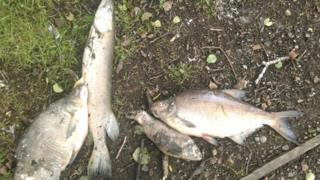 A lake has been closed after thousands of fish were found dead in the water.
The lake, known as Farington Lodges, has been closed while Environment Agency staff conduct tests on the water quality and raise oxygen levels.
The site near Leyland, Lancashire is owned by South Ribble Borough Council and Withnell Angling Club.
About 200 fish including bream, roach and carp were found alive and moved to a nearby lake. Dog walkers have been told to keep their pets away.
Councillor Peter Mullineaux said: "Everyone is working very hard to return the lodges back to normal, but in the meantime the Environment Agency has advised that we close the site to the public and it's likely to remain closed for the next few days."
An Environment Agency spokesman said: "There are two situations that can cause oxygen levels to drop.
"One is algal bloom and the other is the presence of chemicals in the water. At this stage we are still investigating."
The nearby Farington Lodge Hotel, part of the Classic Lodges Hotel group, is not affected by the lake closure and remains open for business.