Men jailed over six-figure stolen vehicles scam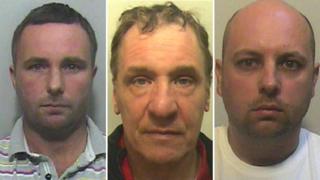 Two men who handled stolen vehicles worth £100,000 have been jailed.
Matthew Hartley, 43, from Cliviger, Lancashire and Ronald Goss, 59, from nearby Haslingden had admitted stealing equipment and vehicles before selling them on with cloned registration plates.
They were jailed for 15 months and 14 months respectively.
A third man, Oliver Young, 34, from Rossendale, Lancashire was given a suspended term at Preston Crown Court.
He was handed a 30-week sentence suspended for 18 months, with 200 hours of unpaid work.
Police said the three men stole high-value plant machinery and campervans, bringing them to Burnley and Rawtenstall.
They covered up the original identities of the stolen vehicles, creating new identification plates using the details of identical vehicles which had been sold out of the country.
A total of 24 stolen vehicles - a motor home and 23 items of plant machinery - were later recovered from as far afield as the Isle of Wight and Elgin in the north of Scotland.
While the group admitted handling stolen vehicles worth £100,000 in a year, the total of the vehicles recovered during the investigation is over £500,000, Lancashire Police said.
The court heard Goss, of Dean Road, Haslingden, accepted payment into his bank account for the vehicles, before paying it on to Hartley - taking a £500 cut per transaction.
Goss and Young pleaded guilty to four and two counts of handling stolen goods respectively while Hartley was convicted of six counts following a trial.
DC Martyn Leigh said the trio "have wreaked havoc on innocent peoples' lives".