EU exit debate splits opinion in Fleetwood fishing town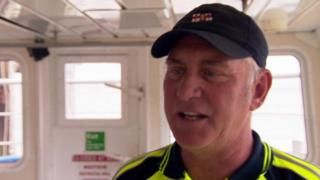 The waters around Fleetwood look tranquil in the early summer sun, but Britain's membership of the European Union has caused something of storm here from day one.
Tony Cowell, captain of the local Knott End ferry, was once a full-time trawlerman, but believes Fleetwood's fishing industry has been ripped apart.
He lays much of the blame at Brussels door and is in no doubt the country should vote to leave the EU.
"We shouldn't be dictated to any more," he said.
"This port could have carried on and thrived... the EEC [European Economic Community] ruined our fishing grounds."
Fleetwood was once England's third biggest fishing port, employing 11,000 - a third of the town's population.
But history shows its initial decline had nothing to do with the EU.
It began during the 'Cod Wars' of the 1970s when Iceland put a limit on how much fish could be caught in its waters.
Hundreds of Fleetwood fishermen went out of business as a result. Then, when Britain joined the EU, even more restrictions were introduced.
Local historian David Pearce, who was a local newspaper reporter at the time, said: "The main impact was it allowed fishermen from other nations: Holland, Belgium, Spain to come to the Irish Sea and catch fish - fish that would have been exclusively caught by British fishermen."
In the 1950s and 60s, the town boasted about 120 trawlers, but in the 1990s many fishermen sold their boats under a government decommissioning scheme to preserve fish stocks.
There are now no full-time fishermen in Fleetwood and the last remaining trawlerman has recently put his boat up for sale as he couldn't make it pay.
Politician Boris Johnson, the lead voice of the OUT campaign, recently called EU fishing regulations "crazy".
But Prime Minister, David Cameron is keen to point out that the UK's fishing profits are up again - with 20% more fish landed than five years ago.
Many in Fleetwood will see June's vote on EU membership as an opportunity to take back control of UK waters, but what will happen in reality?
Creates 600 jobs
The government would still impose fish quotas - they're designed to restore fish stocks and is a policy that has worked with cod.
Would Britain still have to share our waters with foreign boats? Maybe, that would depend on the deals that could be negotiated with the EU.
Despite the decline in fishing from Fleetwood fish processing is still thriving in the town. The seafood isn't caught locally now, but it still provides 600 jobs in the town.
AM Seafoods Ltd processes shell fish and their vessels land whelks, crab and scallops around the UK.
Director Mark Merrick believes staying in Europe is the best option for his business - especially as the majority of their workforce are from Bulgaria.
He said: "Forty per cent of our sales are into Europe.
"We don't know what will happen if there's an [EU] exit, what tariffs, if any, will be imposed.
"Our competitors in southern Ireland and France would have a distinct advantage straight away if tariffs were imposed on UK goods.
"We also recruit heavily from eastern Europe for our floor staff. If we left, we'd struggle to recruit."
Like so many issues in this referendum, views vary - even in Fleetwood.
There are those who say the town's fishing industry has been obliterated and point the finger partly at the EU.
But no-one can be sure leaving would solve the problems.