Shakespeare's first four folios go on show in Blackburn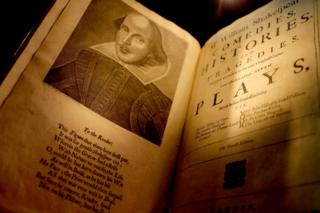 A selection of work by William Shakespeare considered the "Holy Grail of book collections" is to go on display.
The first four folios of the Bard's plays will appear at Blackburn Museum.
The exhibition includes a copy of the 1623 First Folio - the first printed collection of the plays - of which there are only 234 surviving copies.
It will join copies of the second, third and fourth folios bequeathed to the town by industrialist Edward Hart.
Blackburn councillor Damian Talbot said the 400th anniversary of Shakespeare's death gave "an opportunity to shine the light on some of our cultural gems".
---
Shakespeare's First Folio
The Bard wrote 37 plays, 36 of which are contained in the First Folio
It was compiled seven years after the writer's death by two of his fellow actors and friends, John Heminges and Henry Condell
It is believed about 750 copies of the First Folio were printed
Without the First Folio, 18 of Shakespeare's plays - including Twelfth Night, Macbeth and The Tempest - might never have survived
The 1623 First Folio is on loan from Stonyhurst College
---
Mr Hart, who owned a rope-making firm in the town, left his vast collection of books and coins to the museum on his death.
It included copies of the second, third and fourth folios.
Museum manager Paul Flintoff, said: "He made a lot of money out of the people of Blackburn, but he did have that old-fashioned idea of giving back to the community.
"He never made a big thing out of it... the more we dig into his life, the more we like him."
---
Edward Hart
Born in Blackburn in the 1870s
Became chairman of the family's rope-making firm, which provided rope belts for spinning looms during the Industrial Revolution
Collection included William Caxton's printed works, almost 8,000 coins, a page from the Gutenberg bible, Islamic books and clay tablets dating back from 2000 BC
Bequeathed his collection, described as one that "cannot be matched by any public collection outside London", to Blackburn Museum when he died aged 68 in 1946
Source: Blackburn Central Library
---
Owning a full set of the earliest editions of Shakespeare's work is "very rare", Christie's auction house said.
A separate collection of the first four folios will be go under the hammer in London on Wednesday, where they are expected to sell for more than £1.3 million.
An edition of the First Folio owned by Oriel College in Oxford sold for about £3.5 million in 2003, while another copy sold at auction in 2006 for about £2.8 million.