Father and two young sons 'very lucky' to survive jet ski accident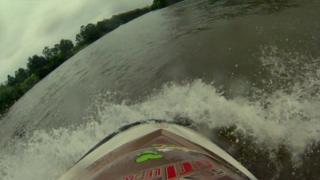 A man and his two young boys were "very lucky" not to be killed when they fell off their jet ski, the coastguard said.
A safety kill cord between the rider and the jet ski was not attached, meaning the engine did not cut out when they fell into the tidal River Wyre.
HM Coastguard Fleetwood said only "pure luck" saved the man and his sons - aged one and eight - from being hit by the out-of-control jet ski on Saturday.
The man swam to shore with his baby while a ferry rescued the other boy.
The eight-year-old was picked up by the Fleetwood to Knott End ferry in Lancashire.
"This incident could have so easily ended up as a multiple fatal incident, with the deaths of two children and a father," said a statement on the coastguard's Facebook page.
The jet ski was recovered by the Fleetwood lifeboat.
The man and the older boy were wearing personal flotation devices instead of lifejackets while the baby had a ring, the coastguard said.
It added: "Wear a good, well fitted lifejacket. If your craft has a kill cord..... use it!"
'Very lucky escape'
Tony Cowell, captain of the Fleetwood to Knott End Ferry, helped with the rescue.
He told the BBC the three were in "a lot of danger".
He said the jet ski was "still in gear, going round in circles".
"We went to the father and the youngest child first. I was shouting to him: 'Are you okay?'
"He managed to get his feet on to the sand and he said: 'Get my little lad' which we proceeded to do.
"The little lad tried to get to the jet ski and we shouted over: 'Do not go near!'
Mr Cowell said some of the 16 passengers aboard helped to comfort the little boy, who was "a little bit upset".
He said the water was "still at winter temperature and it doesn't warm up until September" and that "the current was going at six knots - they could have been swept out."
Mr Cowell said the jet ski had travelled 1.5-2 miles in 10 minutes before it was picked up by the lifeboat.
He added: "They had a very lucky escape. They came from Manchester and they don't know the tides and how powerful they are around here."