Girl, 14, rescued from waist-deep mud in Warton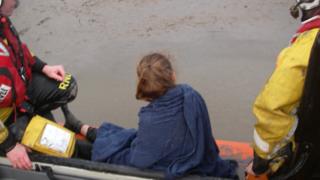 A 14-year-old girl has been rescued off the coast of Lancashire after she became stuck waist-deep in mud.
The teenager spent an hour-and-a-half stuck in the mud near the River Keer at Warton on Wednesday evening after going for a bike ride with her friend.
She was taken to the Royal Lancaster Infirmary to be checked over and her friend was checked at the scene.
A helicopter, lifeboat and hovercraft were involved in the rescue operation against the incoming tide.
A spokesman for Morecambe Coastguard said: "Gullies are notorious for mud in the bay and it's very easy to get stuck.
"Always keep away from them and always make sure your children are aware of the dangers."