South Ribble councillors refuse top roles amid taxi licensing row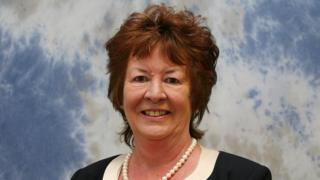 Two councillors have refused to accept cabinet positions after being accused of covering up a report on their local authority's handling of claims taxi drivers sexually exploited children.
A report leaked to the BBC in April found complaints were not dealt with adequately by South Ribble Council.
Caroline Moon and Michael Green said they would not serve in the new cabinet, unveiled on Wednesday, while the matter remained unresolved.
They denied claims they hid the report.
'False and defamatory'
Opposition leader, Labour's Paul Foster, accused the Conservative-led council of hiding a report which found allegations of child sexual exploitation by taxi drivers were not examined adequately.
An interim report written in December by solicitors Wilkin Chapman LLP detailed two cases of alleged child sexual exploitation involving two licensed taxi drivers.
These cases were "not properly investigated" by the council, the report said.
Ms Moon, Mr Green and a third councillor, Warren Bennett, were involved in the investigation when all three were cabinet members.
Ms Moon said she was offered a place in the new cabinet by council leader Margaret Smith on Tuesday.
Of the cover-up claims she said: "They are false and defamatory allegations but whilst they are outstanding I don't feel I am in a position to continue in an administration that has collective responsibility at the council."
Mr Green said: "I am saddened to reject the cabinet position due to Mr Foster's totally unfair and completely untrue claims."
Mr Bennett also denied claims they "covered up" issues surrounding South Ribble's failure to properly vet taxi drivers and denied any wrongdoing.
Ms Smith said: "We have formed a very experienced cabinet who will work extremely hard to get the job done."
---
Analysis by Mike Stevens, BBC Radio Lancashire reporter
Further to the report at the centre of this row, there is also the case of an autistic boy who was unlawfully restrained by a taxi driver.
Two months after his conviction for assault in 2013, South Ribble's Licensing Committee allowed him to keep his licence.
Since then, there have been calls for the leaked report to be released.
And they are not just coming from members of the opposition.
Conservative Councillor Paul Wharton has called for Ms Smith's resignation.
It is also worth noting that whilst the BBC has seen the report, the majority of the council have not.
We are now told it will be published in the week commencing 6 June.
Whether that is enough to placate Mr Wharton and other councillors calling for Ms Smith's head remains to be seen.
---