Cuadrilla to drill Lancashire fracking site bore-holes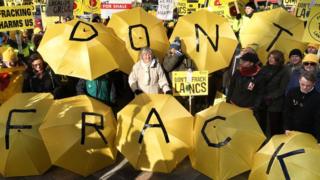 An energy firm is to drill four bore-holes for ground water monitoring at a Lancashire fracking site.
Cuadrilla plans to carry out tests at its Preston New Road site.
It is one of two sites the firm has appealed to be allowed to carry out hydraulic fracturing, following refusal by the council.
The appeal outcome has yet to be announced. Lancashire County Council said planning permission was "normally not needed".
Cuadrilla said it will also be submitting a similar notification for its proposed Roseacre Wood site.
Truck-mounted rigs
The county council rejected both planning applications last year on the grounds of noise and traffic impact and an appeal was heard in Blackpool earlier this year.
Fracking - or hydraulic fracturing - was suspended in the UK in 2011 following earth tremors in Blackpool, where Cuadrilla previously drilled.
Under UK legislation, the company is required to establish a baseline of the natural groundwater conditions in the vicinity of proposed shale gas exploration works before any fracking begins.
The work involves drilling 30-metre deep bore-holes for approximately 16 days using two truck-mounted rigs, which are less than 12 metres high.
Chief executive Francis Egan, said he has written to residents near each site.
"Whilst we wait for the outcome of our appeals for planning permission for both exploration sites, we want to ensure that if we do get the go ahead we are fully prepared to meet our obligations on baseline monitoring of the ground water," he said.
A council spokesman said: "Cuadrilla has notified the county council of its intention to exercise the company's right to permitted development for water monitoring at Preston New Road.
"This means that planning permission would not normally be needed. We will assess these proposals and respond to Cuadrilla within the statutory 28 days."
A final decision by the Secretary of State for Communities and Local Government on the company's appeal against planning permission at the two sites is expected later this year.