Construction firm fined £2.6m after worker crushed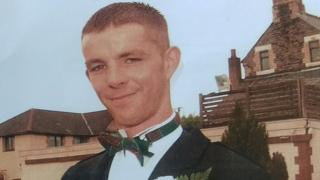 A construction firm has been ordered to pay more than £2.6m after a site worker died following "a catalogue of serious safety failings".
James Sim, 32, was crushed by falling earth at the bottom of a 2.4m (8ft) trench as he laid cable to a wind farm at Heysham, Lancashire in 2010.
Preston Crown Court heard he died in hospital nine days later.
Balfour Beatty apologised saying it "could have avoided" Health and Safety failings.
On 14 April 2010 Mr Sim was kneeling at the bottom of the trench when a lorry passed close by causing a large mass of clay to fall and crush him.
'Entirely avoidable'
The trench was too narrow for him to escape, the court heard.
Mr Sim's colleagues tried to rescue him with a mini-digger while they waited for emergency services to arrive.
He was taken to Lancaster Royal Infirmary but later died of oxygen starvation, the court heard.
Work at the wind farm had been delayed when an environmental survey found there were newts on the site and Balfour Beatty took on a team of labourers from Barry-based firm L D Oliver, including Mr Sim, to make up time lost.
L D Oliver had been recruited on a casual contract and responsibility for health and safety regulations lay with Balfour Beatty, the court was told.
But Balfour Beatty supervisors thought the L D Oliver team would be providing their own risk assessment.
Balfour Beatty pleaded guilty to three counts of breaching health and safety regulations by failing to provide proper risk assessments.
The company said: "There was a disconnect, a failure to communicate. It was a failure we could have avoided. We apologise for that."
Sentencing on Wednesday, Judge Mark Brown said: "This tragic accident was clearly foreseeable and entirely avoidable.
"There was a serious failure to recognise a number of key risks."
He said he was satisfied the failings were localised and measures have since been put into place to prevent it happening again.
The company was fined £2.6m and £54,766.30 costs.
A spokesman for the Health and Safety Executive said: "The level of this fine should serve as a warning across the industry to not ignore health and safety matters."