World War One: Accrington Pals re-enactors fear Battle of the Somme gun ban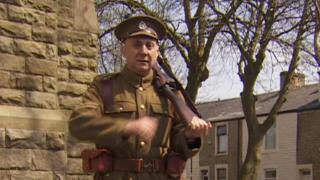 World War One re-enactors fear new rules could stop them from taking their deactivated firearms to France for the centenary of the Battle of the Somme.
The Great War Society is heading across the English Channel to mark the 100th anniversary of the battle in July.
While the sociiety's old deactivated guns comply with UK laws they fall foul of new European Union regulations.
Rules regarding the transportation of weapons have been tightened since November's terrorist attacks in Paris.
Scott Knowles' grandfather and great uncles served with the Accrington Pals, which lost 584 men on the first day of the Battle of the Somme.
He told the BBC: "I feel frustrated and annoyed. I try and portray my grandfather and great uncles as best as I can.
"We don't glorify killing or anything but this is an essential part of a First World War soldier's kit.
"There are no World War One veterans left, so it's important we honour them."
Pals' battalions were formed in 1914 as it was thought men would be more likely to join up if they did so alongside their friends.
Only 100 of the 1,100 who signed up to the Accrington Pals, formally known as the 11th Battalion of the East Lancashire Regiment, made it home from the war.
More than 60,000 British soldiers were killed or injured on the first day alone of the Battle of the Somme.