Suspended anti-Semitism row councillor claims he is 'witch hunt' victim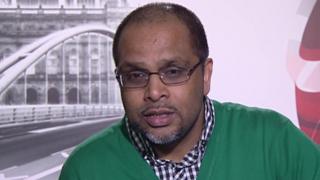 A Lancashire councillor has claimed he is the victim of a "witch hunt" after being suspended from the Labour Party over his comments about Israel.
Shah Hussain, 43, compared the actions of the Israeli government in Gaza to those of Hitler during World War Two.
Mr Hussain said he stood by his tweet which was sent to a Israeli footballer.
The Burnley councillor was suspended with two other Labour councillors who shared a post which suggested Israel should relocate to the United States.
He told the BBC's Daily Politics: "What I was merely stating is that what the state of Israel is doing within Gaza can be made comparable to what happened to the European Jews in World War Two.
"Yes, it was appropriate in 2014 when the conflict between Israel and Palestine was taking place and innocent children were losing their lives. I was stating at that time what was happening within Gaza."
Asked about his suspension, Mr Shah added: "It is unfortunate but within the present climate of a witch hunt going on, I expected it to happen."
Mr Hussain, who represents Burnley's Daneshouse with Stoneyholme ward, intervened in a Twitter conversation in 2014 between footballers Joey Barton and Yossi Benayoun over the conflict in Gaza.
He wrote to former West Ham United player Benayoun: "You are an complete and utter plonker, you and your country doing the same thing that hitler did to ur race in ww2".
Labour leader Jeremy Corbyn insisted his party was "united in opposing anti-Semitism" after Ken Livingstone was suspended over his Hitler comments.
Keith Vaz, chairman of the Commons Home Affairs Committee, described Mr Hussain's comments as "totally inappropriate".