Blackpool man loses drug smuggling extradition fight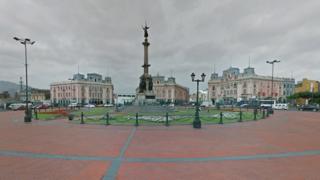 A Lancashire man facing extradition to Peru on drug smuggling charges has lost his appeal fight.
Jamie Cato, 44, from Blackpool, denies sending almost half-a-kilo of cocaine from the capital Lima in 2009.
He launched a last-minute appeal at the High Court in February claiming he would be subject to degrading and inhuman treatment.
Lord Justice Laws and Mr Justice Nicol said his extradition to South America would not infringe his human rights.
Life 'likely to be tough'
The drug was allegedly found in a parcel that Mr Cato, who lived and worked in the country at the time, sent from a post office in Peru.
He was arrested in 2013, just days before completing a separate jail sentence for his involvement in drug dealing in Cumbria.
He launched the appeal after losing an earlier decision that he should face trial.
Counsel for Mr Cato said there was evidence of inhuman or degrading treatment in the country's jails, and there was a good chance he would not receive a fair trial due to "corruption" within Peru's judicial system.
Rejecting the appeal, Mr Justice Nicol said the Peruvian government had promised that Mr Cato would go to one of its better jails.
"Life in Ancon II for a foreign prisoner is likely to be tough, but a stringent test has to be passed before the conditions of detention can be said to be inhuman or degrading.
"These features do not mean, in my judgment, that test has been passed."