Accrington Victoria hospital to close unit for second time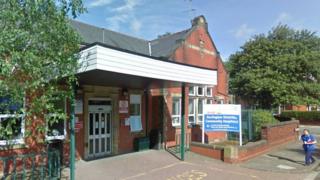 Part of a Lancashire community hospital will be closed temporarily for a second time next week.
Accrington Victoria Community Hospital's (AVCH) minor injuries unit will close between 25 and 28 April.
The NHS trust says it is because the numbers of people going to the A&E departments at Royal Blackburn and Burnley General Hospitals remains high.
Staff from AVCH's unit will be transferred to Blackburn and Burnley to help out.
The closure coincides with the planned strike action by junior doctors on 26 and 27 April.
A statement from East Lancashire Hospitals NHS Trust said the decision was "taken after much consideration, with due care for the safety of patients and to ensure we respond to those with the most urgent needs".
The hospital closed between 6 and 10 April due to "exceptionally high demand" for services at nearby hospitals.