Clothing warning after girl, 11, suffers burns in Lancashire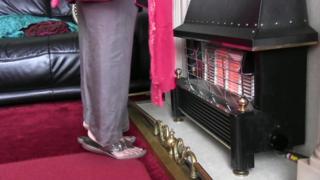 Firefighters are warning about the dangers of loose clothing after a girl, 11, suffered "life-changing burns" in a blaze in Lancashire.
Ambulance crews were called to an address on Castle Street in Brierfield on Monday after the girl's dress set alight as she stood near a gas fire.
She remains in a serious condition in Alder Hey Hospital, police said.
It is the fifth incident in recent months involving people in loose Asian clothing, said fire spokesman.
Lancashire Fire and Rescue Service has re-issued a warning that some items of loose clothing can catch fire very easily.
Firefighter Shabaz Shah said: "The last five incidents we have had [since December] have been people from an Asian heritage background.
"They have been varying ages from elderly people warming themselves against a gas fire. or young children who have been looking at a mirror that has been above the fireplace.
"Their loose clothing - either through radiated heat or by touching a flame - has caught fire and caused very serious injuries and one fire death."
'Stop, drop and roll'
People are urged to remember three words, "Stop, drop and roll", he said.
Mr Shah added: "That flame will not propagate up the body if you fall onto the floor, smother it through rolling, minimise those injuries and prevent such tragic injuries occurring in the first place."
Station Manager Tony Ashworth from Nelson fire station said: "It is clearly very concerning that there has been an increase in these types of incidents and so we're keen to raise as much awareness of the issue as possible, particularly in our Asian communities where this type of loose fitting garment is often worn.
"Clothing can ignite much easier and quicker than people may realise and if a person perhaps has health or mobility issues they could be in real danger of serious injury if their clothing does catch fire and they are unable to get help. "