'Weapons obsessed' Morecambe man jailed over home arsenal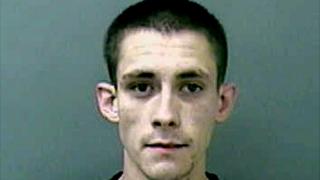 An "extremely dangerous" man has been jailed for five years after an arsenal of weapons was found at his home, the Crown Prosecution Service (CPS) said.
Preston Crown Court heard "obsessed" AJ Porter-Shaw, 29, had a stun gun disguised as a mobile phone, a Samurai sword and a Molotov-cocktail.
He admitted possessing a stun gun and making an explosive device at his home.
Neighbours reported seeing him using the stun gun at his address in Harrington Road, Morecambe in June.
On searching the property police also found designs for making further home-made weapons and explosive devices.
Brett Gerrity, senior prosecutor for CPS North West, said: "AJ Porter-Shaw is a man with an unhealthy obsession with firearms and explosives, making him an extremely dangerous man.
"He was seen using the stun gun in full public view by a neighbour on a summer afternoon."
He added: "The defendant clearly had the means to cause significant harm to a large number of people."
A Lancashire Police spokeswoman said there was no evidence to suggest Porter-Shaw planned to use the devices for extremist purposes.