Main route into Preston to undergo £2m revamp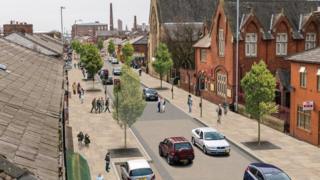 A main route into the centre of Preston is to undergo a £2m renovation project.
Work on New Hall Lane begins on Monday and is funded by the 10-year City Deal scheme for works in Lancashire, South Ribble and Preston, Lancashire County Council said.
The area between Mosley Street and Acregate Lane will get wider footways and a larger crossing in the centre of the shopping area.
The revamp is expected to be completed early next year.
Trees will be planted during the first stage and road junctions will be changed towards the end of the project,
More parking spaces will be added and cycle routes are to be upgraded.
The council hopes the work will make the area more attractive to investors and visitors.