David Cameron: 'Do right thing' over women refuges in Lancashire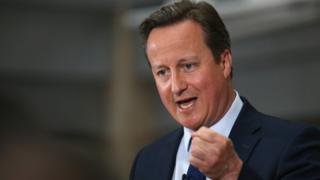 David Cameron has urged Lancashire County Council to "do the right thing" over the future of nine women's refuges, which are at risk of closure.
Planned budget cuts are expected to affect the shelters, which local authorities are not obliged to provide.
Conservative MP for Pendle, Andrew Stephenson, raised the issue in the House of Commons.
County council leader Jenny Mein said she was "appalled" at the issue being raised to score "political points".
Mr Stephenson said the council, which needs to make cuts totalling £250m over the next four years, should "prioritise the victims of domestic violence".
He told the Prime Minister the Labour-run authority planned to cut all funding to its nine refuges, and raised the case of John and Penny Clough, whose daughter Jane was murdered by her ex-partner.
Since her death, he said, the couple have campaigned to save the refuges.
"Does the Prime Minister agree with the Clough family and me that Labour-run Lancashire county council should prioritise the victim's of domestic violence?"
Mr Cameron said the MP raised "a very moving case", and sent his "sincere condolences to Mr and Mrs Clough".
'Very real issue'
He said the government had committed £80m of extra funding to tackle violence against women and girls.
"This does include funding and securing the future for refuges and other accommodation-based services but it obviously helps if local councils make the right decisions as well," he said.
Council leader Ms Mein, said the council took domestic abuse very seriously and was doing its "very best under the severe, relentless cuts we face".
"We are working hard to find the solution," she said.
Liz Stanton, manager of the Chorley and South Ribble Refuge Centre, said in a "worst-case scenario", woman's lives would be at risk if centres were closed.