Accrington Victoria closes unit due to 'high demand' at local hospitals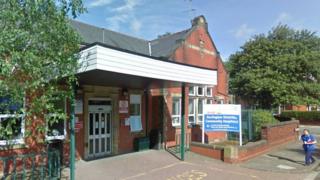 Part of a Lancashire community hospital has been closed due to "exceptionally high demand" for services at nearby hospitals, a health trust said.
Royal Blackburn and Burnley General hospitals are struggling to cope with the number of patients visiting A&E and Urgent Care Centres.
Staff from Accrington Victoria Community Hospital (AVCH) minor injuries unit will be transferred to Blackburn and Burnley to help out.
The unit remains closed until Monday.
Patients have had to wait longer due to circulating illness in the community, school holidays and high levels of staff sickness, the trust said.
A statement from East Lancashire Hospitals NHS trust added: "We have not taken this decision lightly, and we appreciate that it may lead to some inconvenience. However, we are sure that nobody would wish us to compromise patient safety, which is always our priority."
Patients are asked to visit their GP or find other alternatives to the minor injuries unit.