Flu outbreak closes Royal Lancaster Infirmary hospital ward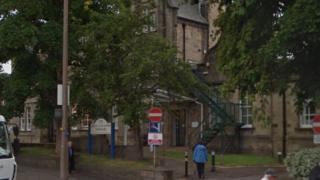 A ward at the Royal Lancaster Infirmary has been closed following an outbreak of influenza.
The Lancaster Suite, which is a general medical ward, is shut to new admissions and visitors.
Morecambe Bay NHS Foundation Trust is asking anybody who has been unwell or had contact with a person with flu to stay away from the hospital.
Routine visiting has been temporarily restricted while the outbreak is managed.
Infection prevention matron Angela Richards said the illness is "highly disruptive" and "can spread rapidly".
"We understand it can be difficult when a loved one is in hospital," she said.
"However, due to the flu outbreak we are asking relatives and friends of patients on the Lancaster Suite at the RLI to stop and think whether it is absolutely necessary to visit their loved ones at this time."