Name chosen for Heysham link road in Lancashire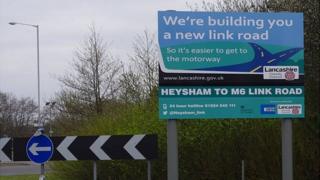 The multi-million pound Heysham link road in Lancashire has been officially named The Bay Gateway.
Lancashire County Council ran a public poll to name the under-construction £123m route, which links Heysham and Morecambe to the M6.
More than 9,000 people responded, with The Bay Gateway receiving more than half the votes, beating Heysham Way, Heysham Link, and Albert Halton Way.
The road is due to be completed later this year.