Storm Desmond: Thousands who suffered power cuts deserve compensation, says MP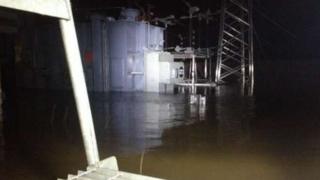 Thousands of people who suffered power cuts during December's floods should receive compensation, an MP has said.
Lancaster MP Cat Smith said households should be in line for payouts from Electricity North West (ENW).
About 55,000 homes were cut off for up to three days.
ENW said: "Having analysed each claim, and thanks to the monumental effort of our engineers in extremely difficult circumstances, we do not believe that we have fallen below" agreed standards.
In January, operations director Martin Deehan said that, after severe storms, "only customers without power continuously for 48 hours - starting when we can access our equipment - automatically qualify for payments."
Ms Smith said this was "unacceptable" given the firm's level of profits.
"They should be compensating those of us who were left for three days without any power and central heating in the middle of December," she said. "They have committed to improving their flood defences and I will be making sure that they are adequate."
The power cuts were caused after an electricity substation flooded during Storm Desmond.
Meanwhile, £700,000 has been raised by the Lancashire Flood Appeal since the storm hit and 30 grants have been awarded to those living in Lancaster.
Flood defences upgraded five years ago to cope with a "one-in-a-100 years flood" were breached and the floods led to routine surgery at Royal Lancaster Infirmary being cancelled and some schools had to shut.