Police probe 'honour violence' link to Blackburn kidnap of boy, 16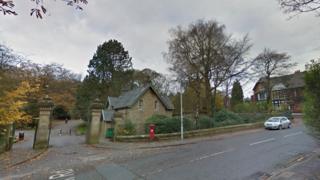 A 16-year-old boy has been kidnapped, assaulted and robbed in an attack linked to suspected "honour violence" in Blackburn.
Police were called after reports of the attack between 17:00 GMT and 18:40 on Monday.
The victim was walking near East Park Road at its junction with Shearbank Road when he bundled into a car.
Two men have been arrested following the incident and police are appealing for more information.
The boy was driven away in a red or maroon car after he was approached and threatened.
Police say the boy was questioned about his relationship with a young woman.
The boy was taken to Beechwood Court, Blackburn, where he said four men assaulted him leaving him with cuts and bruises to his head.
He was later able to call for help from an address in New Bank Road before being taken to the Royal Blackburn Hospital for treatment.
Det Sgt Ben Hodgkinson, of Blackburn Police, said: "The circumstances would suggest this assault is linked to honour-based violence."