Half of threatened bus services in Lancashire saved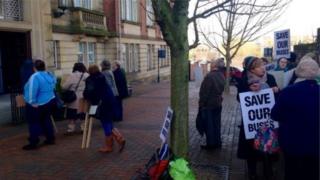 More than half of the bus services previously threatened with closure in Lancashire have been spared.
Lancashire County Council said it had to cut funding of services from £7m to £2m as part of £85m budget savings.
From April, support will be withdrawn from 113 routes but bus companies have now decided to operate 40 of the routes on a commercial basis.
A further 28 will be funded by the council in areas which would otherwise be left with no public transport.
A statement on the council's website said that "60% out of the 113 bus services in Lancashire that we currently subsidise will still run in some form or other - though there may be changes to the routes and times of these services".
'Very messy'
Campaigners lobbied the council over proposed cuts to rural bus services as the budget was debated at County Hall in Preston in February.
Aiden Turner-Bishop from the Campaign For Better Transport said the way the situation was handled was "very messy".
"A lot of people have been worried about their local bus service and the information has been very poor," he added.
Cabinet member for highways and transport, John Fillis, said some services would not operate as often but would cover peak times as the council "make the best of a bad situation".
"I'd encourage people to help us to maintain these buses by using them regularly," he added.
Lancashire County Council must make savings of £85m next year and a further £200m over the next four years.