Burnley man bludgeoned workmate to death with a hammer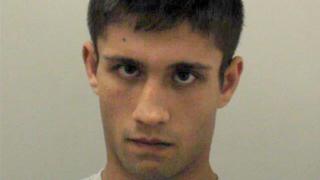 A man who bludgeoned a sleeping workmate to death with a sledgehammer after being called "lazy" has been jailed for life for murder.
Preston Crown Court heard Aaron Jenkins, 20, hit Stephen Whitehead as he dozed at work in Burnley on 25 July.
Sentencing Jenkins to a minimum 17 years, Mr Justice Kerr said it was a "horrific attack on a defenceless man."
Jenkins, who was convicted last month, denied murder on the grounds of diminished responsibility.
The court was told he had the mental functioning of an eight or nine-year-old child.
It heard Jenkins, of Devonshire Road, Burnley, had gone to Pendle Skips to steal a motor bike and decided to settle a score when he spotted Mr Whitehead sleeping off a night's drinking in the canteen.
Earlier in the trial Francis McEntee, prosecuting, said Mr Whitehead called Jenkins lazy and the pair traded insults and threats.
Jenkins was told not to return to work after punching Mr Whitehead.
A post-mortem examination revealed Mr Whitehead died as a result of significant head injuries and had been struck several times with a heavy implement.
The judge told Jenkins: "I am not sure you intended to kill Mr Whitehead.
"If you had been a cool-headed and mature man I would have had no doubt about the intention to kill just because of the nature of the blows struck and the weapon used.
"But you were a very young man of low intelligence and with a significant learning disability."
Det Ch Insp Pete Simm, of Lancashire Police , said: "The level of violence used was truly obscene."